5 Steps to New Siding
1.Set Up
Project manager will meet with the Homeowner to review the job.
We provide a tarped perimeter around your home to catch debris.
We protect your yard, plants and lawn furniture by moving or covering.
We advise you to remove all loose items from shelves and walls as hammering may create vibration that could shake items off the wall or shelves.
We provide a permit that is required to be posted on the exterior of your home.
We provide a debris dumpster for removal of construction materials.
We protect your driveway by placing boards under the dumpster.
2. Old Siding Removal
All necessary siding is carefully removed.

Sheathing is inspected and replaced as needed.
Pictures are taken of any wood that is replaced.
Fixtures are removed and set aside to be reinstalled later. If new fixtures are provided, we will install them in place of the old.
All related debris is disposed of in the provided dumpster.
3. New Siding Installation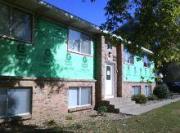 We use VSI Certified installers.
We apply house wrap or Styrofoam insulation that is in compliance with State and City codes.
We apply tape around all doors, windows and seams in the house wrap.
Mounting plates are installed for fixtures, and new vents are installed for exhausts.
New siding is installed over the contracted area using premium quality products.
Siding and trim are caulked as needed.
5. Inspection
We will notify the city and an inspector will inspect and sign the card.
After the job is completed, a final inspection is done by the Project Manager with the Homeowner to ensure the Homeowners satisfaction.
Go Back