6 Steps to A New Roof
1.Set Up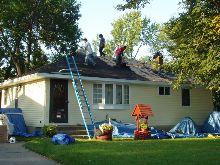 Project manager will meet with the Homeowner to review the job.
We provide a tarped perimeter around your home to catch debris.
We protect your yard, plants and lawn furniture by moving or covering.
We provide a permit that is required to be posted on the exterior of your home.
We provide a debris dumpster for removal of construction materials.
We protect your driveway by placing boards under the dumpster.
2. Old Roof Removal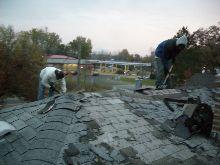 All old roofing material is carefully removed.
All old flashing is removed or inspected to meet our standards of quality.
All exposed roof fixtures are changed out with color coordinated fixtures.
Roof boards are inspected and replaced as needed.
Pictures are taken of bad wood and any existing roof damage.
We make sure your roof conforms to current state and city codes.
3. New Roof Installation
We use GAF Certified (Master Elite) installers.
We apply a special waterproof barrier that is in compliance with State and City codes.
Only Premium GAF shingles are installed over the entire roof and nailed in place (unless other shingles are specified by the Homeowner.)
Waterproof caulk is applied as needed.
Tarps are always used to cover the roof if the job takes more than one day.
4.Clean Up
All related debris is disposed of in the provided dumpster.
Nails that fall from the roof during the job will be picked up with a magnetic roller.
Extra shingles are left with the Homeowner.
Patio furniture and any other items that were moved are placed next to the home.
5. Inspection
We will notify the city and an inspector will inspect and sign the card.
After the job is completed, a final inspection is done by the Project Manager with the Homeowner to ensure the Homeowners satisfaction.
6.Warranty
YourExclusive safest choice Weather Stopper Systems Plus Warranty will be delivered by the Project Manager.
Go Back